AUDIT PROCESS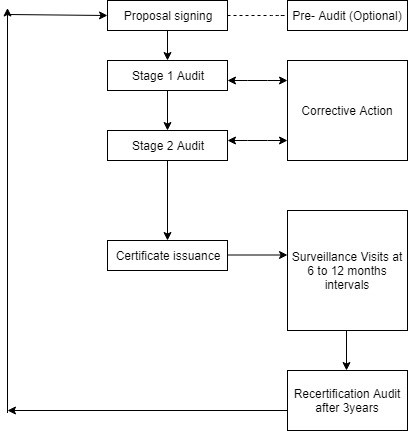 Proposal Signing
Client can initiate the process of certification by signing the proposal received from Quality Plus.
Pre-Audit
Quality plus can offer the pre-audit which is optional upon the request from the client. This will give an indication of the readiness of your organization for the audit. This stage will help the client is gaining confidence before the formal audit.
Stage 1 Audit
This stage of the formal audit helps to evaluate the readiness of the system by checking the compliance of the documentation with the requirements of the standards to better understand the nature of your organisation and to plan the rest of the audit as effectively as possible.
Stage 2 Audit
This stage of the formal audit will involve interviews and examination of the records. This will determine how compliant your actual processes are with the standards and documentation structure. Non-Conformities from audit will be addressed and then the certification decision will be taken by the authorized person from Quality Plus to confirm the issuance of the certificate.
Surveillance Audit
This is the periodic audit done normally after 6 to 12 months from the date of initial audit depending on the contract (Here we do the surveillance audits at the 12th month and 24th Month from the date of initial audit). We review the implementation of the action plan addressing the past non-conformities. There will be 2 surveillance audit that will be done in the period of 3 years. This stage of audit is mandatory in order to maintain the validity of the certificate issued at the initial phase.
Re-Certification Audit
After the completion of the 3 years, the clients will be notified by Quality Plus for the recertification and new proposal should be signed with us again and the cycle continues.