ISO certification is a thorough process that is tailored to the objectives of a company within the framework of an internationally recognized set of management system standards. Operating since 1947, with memberships over 170 countries and thousands of different standards covering all aspects of technology and business, the international standards organization or ISO is a proven international body with an indisputable reputation.
The ISO (International Organization for Standardization) serve as a quality trademark guideline that ensures those achieving this certification follow a consistent methodology and recording process thereby guaranteeing a product or service that is optimized for utmost efficiency and quality. If your business decides to pursue this goal, an accredited ISO certification body will verify compliance with the regulations for each standard through a process of training, documentation and auditing.
In many industries, customers as well as clients are now demanding that businesses should work under the ISO guidelines or regulations. On the other hand, there are some industries, where the companies are pursuing the ISO certifications as a corporate objective of their own. So, what advantages does ISO certification in UAE offer to make it worth your business's time? Consult with our team members of Quality Plus in UAE!! When you choose to take the assistance of the ISO certification consultants of our company in Abu Dhabi, UAE, you can hope to get the best guidance and wealth of insight with the help of which you can most certainly get your management system all prepared for the ISO audit and can acquire an ISO certification immediately for your business.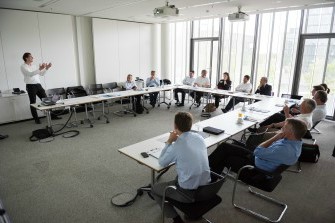 Our ISO certification consultants in UAE have specialized in a wide variety of ISO standards that are there for auditing. Our consultants at Quality Plus offer ISO certification, training, and audit to our customers for more than 15 years that allow us to serve with high standards of quality experience.
Furthermore, we cover a wide range of certificate expertise and have worked with many organizations to achieve standards like ISO 9001, ISO 14001, ISO 27001, ISO 17025, OHSAS 18001, HACCP, ISO 22000, GMP, and more.
Highlighting the Benefits of Attaining ISO Certification in UAE
Whether your firm is bidding for a public sector or private sector contract, an ISO certification will provide a rubber stamp on your company's dedication to quality and professionalism. Though you might well be running an optimized and efficient operation even without certification, the only way a client would understand this is if they carried out a costly and time-consuming professional audit of their own. So given the choice between an organization with certification and one without, it's clear which one they will opt for.
In fact, most central and local government bodies now need bidders to be ISO certified and major private sector customers are realizing the need for verified certification as well. Simply put, when there is so much money on the line in governments and companies will do everything in their power to minimize risk.
We at Quality Plus recognize the importance of this QMS system and offer businesses, the guidelines and assistance to become an ISO certified company. You can even get the ISO audit training from our Abu Dhabi based company that will allow you to conduct internal audits and check the efficiency of your business quality management system.
Brings Improvement throughout the Entire Business
Without sufficient oversight, it can be easy for a business to become lax. Processes are inefficient and proper documentation is minimal. By emphasizing self-analysis and improvement across the whole organization, the certification process can reveal obsolete tasks and functions across the company, and provide various opportunities to minimize wastage and inefficiency. This indicates to the fact that there are far fewer errors being made on the production line, and those that are being made are caught much earlier.
The effect this has on your management and staff cannot be underestimated. The detailed documentation needed for achieving an ISO certification gives each employee a clearer idea of their role increasing their motivation and job satisfaction.
If you want to bring improvement in your business through ISO certification, then contact our ISO certification professionals of Quality Plus in Abu Dhabi, UAE today and we will guide you with the rest of the process!!
International Recognition
An ISO certification in the UAE will not just serve you in the local market. If your firm is looking to increase its global reputation, then certification from an accredited body can provide foreign clients with the right assurances to move forward and do business with your company. In many cases, a multinational client may even refuse to work with your company if you do not possess any ISO certifications.
Interested to achieve ISO certification in UAE for your business? Please contact our professionals of Quality Plus at +971 2 666 3133. We will be glad to help you!!