Every business depends on its customers for growth. An ISO certification ensures reliability of a company to the customers. Today's customers do not wish to invest on products or services that come with no guarantee. They become sensible with regard to their investment decisions, which have made ISO certifications a reliable option to gain customers trust and improve business growth.
ISO certification programs monitor all size companies to improve their business efficiency and minimize risk through comprehensive audit and continuous registration programs. ISO standards help businesses of any size and sector to reduce costs, increase productivity, and access new markets. The ISO certifications help businesses to build customer confidence that your products are safe and reliable, meet regulation requirements at minimized expenses, and reduced costs across all aspects of business. ISO works across a range of service industries to ensure the needs of all kinds of consumers are catered to.
Continuing with the topic of ISO, let's take a brief look through what it is, types of ISO standards available, and how to seek an ISO certification.
ISO – What It Is?
ISO an acronym of International Organization for Standardization is the world's largest developer and publisher of international standards. With a network of institutes in 163 participating countries, ISO is a non-governmental organization that forms a bridge between public and private sectors. As a result, ISO standards are constantly advancing to meet the needs of growing sectors within the industry. The vast majority of the ISO standards are highly specific to product, material, and process, ensuring regulation from start to finish.
In today's competitive business world, customers are placing more and more demands on their suppliers for quality, efficiency, etc. In such a scenario, an ISO is integral for every business to qualify as reliable in the eyes of customers.
Types of ISO
With an ISO certification, your business will able to achieve greater dimensions of success and growth. An ISO is more than a symbol; it's a mark of quality. The ISO is by far the most important of all the standards that you can possibly acquire from any competent authority. Your business will be going towards places you couldn't have possibly fathomed. There are various kinds of ISO standards, each having its specific importance. The various types of ISO certifications are as follows:
ISO 9001 Certification
: Of all the ISO standards, this is the most coveted of them all. Every business activity would want to get a part of this standard because it is a quality management system standard. Getting a quality management system standard for your business helps ensure that they meet the needs of customers and other stakeholders while meeting statutory and regulatory requirements related to a product or service.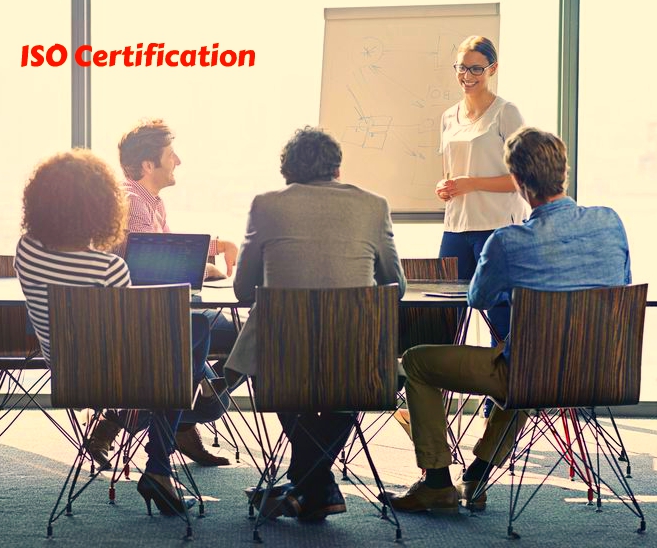 ISO 22000 Certification: The ISO 22000 certification entails the prevention of the biological, physical, and chemical hazards in the production process that can cause the finished product to be unsafe. Food industries can avail this beneficial ISO certification. This is a certification that puts distressed consumers of mass-consumed products such as noodles or other instant food products to breathe a huge sigh of relief. In any industry, reputation is everything, and the hallmark of a competent authority will put that faith back into the masses.
ISO 27001 Certification: This is a part of ISO 27000 family of standards, which helps information of assets secure. The ISO 27001 certification is the most well-known of the standards and being audited for it would mean that you are taking rigid steps in a direction, where all your precious financial information, intellectual property, employee details, or the information entrusted to you by third parties will be secure.
ISO 14001 Certification: It is a standard for environmental management system (EMS) and the most widely used EMS in the world, with more than 250,000 issued globally. This helps you control the environmental aspects, minimize impacts and ensure legal compliance with laws. This certification also helps you implement controls and measures to keep risk low.
Getting this certification would demonstrate the fact that you are serious about the environment, and having your company abide by this standard would mean that people will start to consider your business as a progressive company. And in the rapidly expanding expanse of this cosmopolitan, this is the type of ISO certification that your business would necessarily need.
OHSAS 18001 Certification: This is known as the occupational health and safety management system. This is created after a concerted effort from several certification bodies, standard bodies, and specialist consultancies. Implementing an OHSAS system would mean that you are taking necessary steps to ensure the safety of your employees and other interested parties.
Why Choose Quality Plus for Getting an ISO Certification in Abu Dhabi, UAE?
Quality Plus in Abu Dhabi has an enviable record of customer satisfaction for its ISO certification services across the UAE. We have delivered ISO training, Audit, and Certification for almost over 15 years in Europe and the Middle East. This allows us to provide customers with not only quality services but quality experience. We cover a wide range of certificate expertise and have worked with many companies to achieve these standards such as ISO 9001, ISO 14001, ISO 27001, ISO 17025, OHSAS 18001, HACCP, ISO 22000, GMP, and more.
Quality Plus in Abu Dhabi, UAE, employs auditors that have empathy with a friendly approach and dislike of bureaucracy has led to unprecedented growth through referrals from contented clients. All of our auditors are carefully allocated by their experience in the industry they are auditing. This results in a practical, meaningful audit, carried out in an air of mutual understanding. Quality Plus in UAE resolutely believes that its quality audits should benefit the organization that requests it, not be a rational exercise to please the auditor.