Customers as well as clients prefer companies with ISO certification. An ISO certification signifies high quality as well as safety standards of the product or service. This certification assures that the company offering a service or product is complying with all quality and safety standards set by the international organization for standardization. The ISO certification assures that the products and services offered by companies are consistently meeting the requirements of the customers, and standards are ever-improving.
In simple terms, ISO is a guideline by which companies or organizations measure their quality standards. If a system is ISO certified it assures the people who have purchased the system is reliable and of a superior quality.
Therefore, it is important for all companies or organizations to get ISO certified in order to earn the trust of clients and customers in their products or services.
Getting ISO Certification.
Nevertheless, while getting ISO certified is a trademark of reliability assurance, obtaining it can be a very daunting task. You need to meet the quality standards set by the international organization of standardization for achieving the certification. Standards of ISO auditors are very high and to meet all their requirements, it is best you hire an agency that is dealing with ISO certification task. Even though ISO certification is not a mandatory process by the government, but most of the industrialists are going for this in order to create credibility for their companies among the customers and sustain in this competitive world.
How the Experts at Quality Plus Can Help?
We at Quality Plus help companies achieve ISO certification. Our team of professionals will work side by side with your company to train, document and facilitate all the requirements to be an ISO certified organization. ISO certification are of various types and the ones that we offer are ISO 9001:2015, ISO 22000, ISO 14001, ISO 27001, ISO 17025, ISO 18001 OHSAS, HACCP. Furthermore, we at Quality Plus provide expert ISO audit training so as to get the certification from ISO officials at first attempt.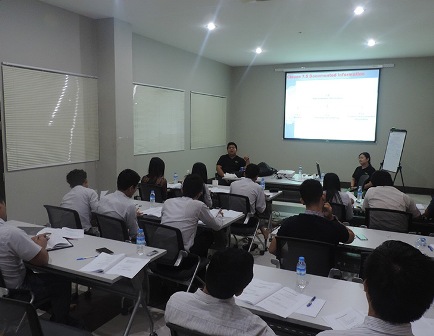 The ISO certification training from Quality Plus assures prior auditing processes complying all the ISO standards. The demo auditing from the specialists of Quality Plus helps in getting the gaps in the production process. Quality Plus professionals detect the faults in the company's system and then the reports of such faults are presented to the company. It is now the duty of the company to eliminate such faults from its production process. After this, ISO auditors do the audit work and companies get to achieve the ISO certification at the first attempt.
The main objective of the ISO certification is trademark that the company is complying with correct quality management standards. We at Quality Plus help companies to achieve this QMS trademark and enhance their credibility among clients and customers. While you attempt to get an ISO certification, you must prepare a record that efficiently and correctly describes the whole process of production and quality management system. This document must contain quality manual as well as quality policy of the production process in the organization.
Among several accreditation bodies providing ISO certification training, Quality Plus is the most famous, reliable, and credible of all. Our professionals understand the standard needed for getting an ISO certification as well as provide guidance to its clients throughout the process of ISO certification. Quality Plus is a very reliable UK company  located in Abu Dhabi, UAE that has a record of delivering top-notch ISO training, audit, and certification services for more than 15 years. We cover a wide range of certificate expertise and have worked with many organizations to achieve these standards such as ISO 9001, ISO 17025, ISO 27001, ISO 22000, GMP, OHSAS 18001, HACCP, and more.
For more details, Visit www.qualityplus.ae or Call at +971 2 666 3133!